The sounds, the smells and the excitement!
Feel the rush as you push the puck up to your teammates. The sound of the ice on your skates and the puck on your stick. The smell of the arena brings back memories of when we were kids playing in the minor leagues.
Now with two ice times!
Back by popular demand, Johnny Boberofski will be on the ice again this season sporting his red CCCP jersey. You can't miss him – He's the guy standing on the oppositions blue line whenever he is on the ice. He was our first round draft pick from the Russians.
Remember – new this year – TWO Ice Times!
6am Saturday mornings – Guthrie Arena (4th line of Oro and Hwy 11)
9pm Saturday Night – Guthrie Arena (4th line of Oro and Hwy 11)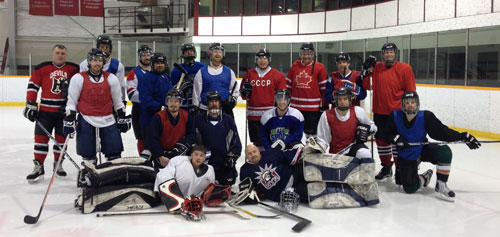 Christian Sports Hockey Group Picture
For more information please call the office (705) 487-6595